MONUSCO and World Bank to provide psycho-social assistance to ex-combatants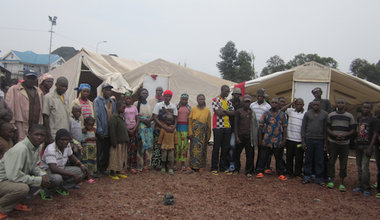 Goma, July 24, 2012 - The United Nations Stabilization Mission in the Democratic Republic of Congo (MONUSCO) in collaboration with the World Bank, has just ended a 3-week training program focusing on Psycho-social assistance in support of ex-combatants who surrender to the Disarmament, Demobilization, Repatriation, Reintegration, and Resettlement (DDR/RR) Division of MONUSCO.
DDR/RR deals with ex-combatants from various armed groups across eastern DR Congo. They usually come to MONUSCO with a variety of disorders including phobia, stress, trauma, post traumatic stress disorder etc. As part of the support mechanism, MONUSCO and World Bank hired specialist trainers from Konstanz University in Germany to conduct the program.
The training brought together 14 DDR/RR participants from north and south Kivu. The training was based on a combination of lectures, exercises, process-oriented approach, based on principles of adult learning. It was also focused on the application of FORNET, an evidence-based, short term therapeutic intervention for ex-combatants who have experienced traumatic events, participated in violent acts themselves, and who suffered from Post-Traumatic Stress Disorder (PTSD) and/or high levels of appetitive aggression.
The training comes at the time when DDR/RR is receiving more and more ex-combatants who are coming with a range of violent disorders.
It is now likely that ex-combatants from various armed groups with these complications will be supported and treated with the utmost professional care concomitant with the new training obtained. Additionally, incoming ex-combatants will have the opportunity to benefit from the skills of DDR/RR staff so much so that they will return home rehabilitated and relieved for proper civil reintegration.
Already, DDR/RR has received, processed, and repatriated nearly 28,000 foreign ex-combatants and their dependents from the various armed groups including the FDLR (Democratic Forces for the Liberation of Rwanda) and the ADF (Allied Democratic Forces-Uganda) since the inception of the DDR/RR program in 2002.
By: Sam Howard, Demobilization Officer for Public Information – DDR/RR Division of MONUSCO.