MONUSCO Police form general information officers of the PNC
A new four-day general intelligence training session opened on Monday 09 September 2019 at the Mining and Hydrocarbons Police Station in Goma, North Kivu. This training, initiated by the Serious and Organized Crime Support Unit (SOCSU), involves 23 participants (officers and non-officers) of the Congolese National Police (PNC).
This training is undertaken in the context of capacity-building for the PNC, said the representative of the MONUSCO Police Chief. According to him, it will enable the participants to better collect and analyze intelligence and other information so that they can charge of the fight against serious crime in general and against armed groups in particular.
The representative of the PNC Commissioner- General expressed his thanks to the SOCSU officers and to the entire Police component of MONUSCO for their support and for holding this training course.
He also asked the participants to convey the message to their respective superiors. According to him, the UNPOL sector will spare no effort in supporting the PNC and providing its expertise to improve the professional skills of the Congolese police.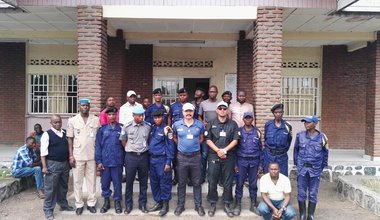 This specific training on general intelligence was conducted by SOCSU / Investigator Rached Mzoughi.
In his address, he first thanked the participants for their determination in acquiring knowledge related to the subject. He further emphasized the importance of this training, urging everyone to fully participate and to be personally committed to achieving its planned goals.
Classes are scheduled on four days, from 09 to 12 September 2019.