Beni: MONUSCO Provides National Security Forces with Containers Fitted out to Serve as Offices
"MONUSCO puts us in good conditions so that we can be able to fulfill our mission, that of protecting the population and their properties", said the Senior Commissioner Jean-Pierre Wumbi, commander of the territorial police station of Beni in charge of the enforcement of public order in the Far North, on Tuesday February 14, 2023 in Beni on an official handover by MONUSCO police component of three converted containers that will serve as offices for the Congolese National Police (PNC).
This joint UNDP-MONUSCO project is intended to upgrade the PNC infrastructure and improve the working conditions of its personnel.
Prior to the reception of this donation, PNC faced a glaring lack of workspace to properly carry out its sovereign mission entailing consequences such as promiscuity and slowness in processing files.
Through this support, MONUSCO and UNDP intend to remedy this situation by providing the police headquarters in Beni-ville and Oicha as well as the Beni garrison military auditor with these three containers, the overall cost of which is approximately $37,000.
For the Senior Commissioner, this support will help improve their performance. Colonel Jean-Pierre Wumbi expressed his joy on receiving the equipment during the official hand-over ceremony on Tuesday February 14 in Beni. He underscored "this support is very helpful and much expected, insofar as for personnel to give the best of themselves, they need to be put in good working conditions. This donation will allow the police to fulfill their mission, which is to protect the population and their properties".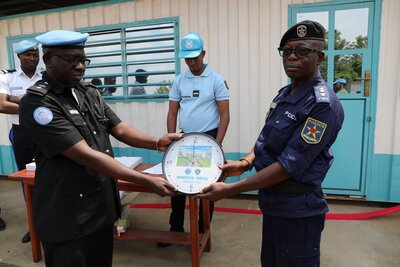 Everything has been thought out so that staff have a modern working environment. The three containers of 40 feet each have been designed for good acoustic and thermal insulation: no heat or sound transmission between offices. They are soundproofed thanks to a layer of 8-millimeter multiplex applied to the walls as well as a metal roof. There is also a reinforced concrete pavement on the ground and polystyrene which make these "offices" an ideal working environment.
This is the umpteenth time that MONUSCO has provided support to the Congolese National Police in North Kivu.
In Beni-ville and territory, for example, as part of support for institutions, MONUSCO has already built, among other things, the headquarters of the Congolese police and cells in Oicha and Beni (capital of the territory of Beni).
MONUSCO has also rehabilitated police offices. This support is not limited to infrastructure. In December 2022, MONUSCO had again donated computer equipment (computers, printers, etc.) to the PNC.
It regularly organizes training, particularly in cybercrime, forensic science, community policing, road traffic policing, intelligence, maintaining public order and crowd management, etc.
Colonel Jean-Pierre Wumbi recalled that all this support from the UN Mission is meant for enhancing law enforcement. He asserts that MONUSCO is helping to professionalize the Congolese National Police: "MONUSCO is a Mission for the stabilization of peace in our country, and it indeed supports the police, which is a security instrument. Apart from everything we see here, MONUSCO has given us buildings, the necessary means so that we can work well".
Beyond the containers, MONUSCO also handed over to the PNC some office supplies and other consumables at the end of the ceremony at the two PNC headquarters in Beni and Oicha.