Beni prison: MONUSCO's Work has Impacted and Changed Life of an Inmate
Martine is 30 years old. You will not see her face in this publication because she speaks anonymously and, besides, Martine is an assumed name.
Like any human being, Martine, a mother living in the town of Beni, has made mistakes in the past. She broke the law and was tried for the offense of robbery.
For four years, Martine has been serving her sentence in Beni central prison. Her life is turned upside down. Martine is used to savoring the air of freedom and enjoying life. Which is not always obvious between four walls.
However, every cloud has a silver lining as the saying goes: in this rehabilitation center, Martine took the time to reflect on her life, to see what meaning she will give to it as soon as she regains her freedom.
This mother has remorse. If she finds herself in this situation of incarceration, it is because, being free a few years ago, Martine had no means of subsistence and one day decided to take the wrong path, namely "steal", to help herself cater for the need of her needs of her children.
What she did not expect, against all expectations, was to be arrested and brought to the peace court in Beni before her natural judge. Francine then received five years sentence in prison. Her life was turned upside down.
A new start
In prison, while Martine was thinking about how to pull out of her new plight after serving her long sentence, some hopes loomed over clear horizon; MONUSCO, through its prison administration support section, decided to organize a series of training courses for the benefit of women prisoners.
By organizing these training courses, MONUSCO attempted, among other things, to combat inactivity and idleness in prison, empowering inmates through teaching them a trade and preparing them for their return to normal community life.
When she heard this news, Martine was overexcited. She has just found the ultimate solution she needs to change her life and become a new and good person useful to her family.
Like Martine, forty-five other women are jailed in this prison. During the learning lessons, Martine was highly dedicated. She didn't let any details escape her. She asked questions to understand better what was taught.
New life
With MONUSCO, Martine learned several things: she knows how to make soap, she knows how to weave bags and mats, she knows how to make cakes because she also learned pastry. Having learned all these trades with support from MONUSCO, Martine has today become a new person. Her life has changed, her destiny too.
When we handed over the microphone for her to express her feelings, it was an emotional woman who replied: "MONUSCO changed my life. When I get out of this prison, I will never again commit the same crimes, the same mistakes that led me here."
The errors or crimes to which she alludes are in fact theft. Martine was a thief. From now on, this dark and painful chapter of her life will remain behind her, she confides. "Before, I had to steal to support my family; However, now with all these trades learned, I will work and earn my living by the sweat of my brow, I will work like all honest people."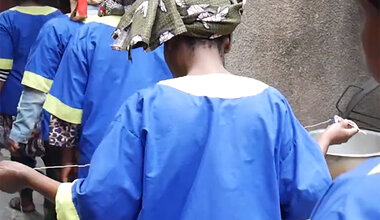 In prison, Martine's desire to become a better version of herself is also motivated by her children. How many of them are there? Martine didn't reveal, but their existence was enough to push their mother to decide to change her life. She further confided: "When I leave here, I want to make my children proud. I will be honest."
Like Martine, forty-five other women prisoners learned one or more trades. They all have the hope of changing their lives and giving the best of themselves to build their community and take care of their families.
This is how MONUSCO's work has changed Martine's life. She will remember the UN Mission all her life, even when it has definitively left the Democratic Republic of Congo.