Corrections Unit
Within the context of protection of civilians, fighting against impunity, support for stabilization and strengthening of state institutions, key governance institutions and security reforms, UN through Corrections Unit has been providing valuable support to the prison system in Democratic Republic of Congo (DRC).
Since 2006, the Unit has existed as an integral component of the rule of law section of the then United Nations Mission in the Democratic Republic of Congo (MONUC). To give new impetus and focus, the UN General Assembly at its 64th session held on 16th February,2010 approved the creation of Corrections Unit as part of the Justice Support Section and since November 2018, the Unit has been directly under the supervision of the Office of Deputy Special Representative of the Secretary General for Operations, Protection and Security (DSRSG/OPS).
Rebuilding the rule of law
Over the years, the rule of law and criminal justice institutions, particularly the prison institutions have been suffering from chronic underfunding, lack of political support from national authorities, and little progress towards professionalization and improved capacity. Consequently, fragile, and poor prison establishments are used to hold all categories of prisoners, including high-risk and high-value prisoners (HR/HVPs).
The HR/HVPs consist of leaders and other important members of armed groups, individuals charged for serious crimes and crimes against humanity, those facing justice for attacks against peacekeepers among others.  Keeping all these categories of prisoners together in these weak facilities create significant risks as the prisons are target of attack by armed groups to free their members and recruit new ones.
For example, in October 2020, Beni Prison (North Kivu) was attacked by ADP armed group leading to the escape of over 1,300 including scores of its leaders. Similar raid on Makala Prison (Kinshasa) in 2017 led to the escape of over 5000 inmates. Other persistent challenges of the prisons are poor feeding, inadequate health care leading to high malnutrition and death among prisoners.  
Outdated prison laws, poor data and records management, prolonged and irregular detentions, overcrowding, keeping male and women prisoners together in the same prisons (non-separation) etc. are also problems of the DRC prison system.
These poor conditions lead to regular prison related incidents such as riots, protest, destruction of properties, sexual abuse, corruption etc.  It is worthy to state that, such occurrences, particularly mass escapes could derail the efforts of MONUSCO to bring lasting peace and security to the DRC.
Strategic and operational support for prisons
To reinforce prison security and conditions to prevent the above unpleasant occurrences, CU is mandated to provide strategic and operational support to the Civilian and Military Prison Administrations under the Ministries of Justice and Defence.
Currently, CU operates in 11 priority prisons in the country where most of the HR/HVPs are held. These prisons are, Makala and Ndolo (Kinshasa); Kananga (Kasai Central), Goma, Beni and Butembo (North Kivu); Bukavu and Uvira (South Kivu); Kalemie (Tanganyika), Bunia (Ituri), and Luzumu (Kongo Central).
It is important to mention that our current support to Kananga Prison is within the context of joint programming towards the withdrawal of MONUSCO from Kasai Central. In total, these priority prisons are keeping a prisoner population of over 22,000.
With 40 experienced corrections experts/ specialists with diverse professional background from various countries, the Unit is offering strategic and operational support to the national prison authorities to reinforce security at the prisons, undertake reforms to bring the prison system in line with international standards, including management of women prisoners and juveniles in conflict with the law.
The Unit is also providing technical and logistical support to promote agricultural activities to enhance feeding of inmates, health care including COVID-19 and Ebola, sanitation, data, and record management, reduce overcrowding as well as organize capacity building programmes (trainings, mentoring, coaching, simulation exercises) to improve the professional skills of prison personnel.
It must be acknowledged that, CU supports the prisons in collaboration with partners in MONUSCO (JSS, JHRO, UNPol, SSR, Gender, Child Protection, etc.), UNCT, particularly UNDP, development partners (ICRC), civil society and faith-based organizations.
Closing of the training of 50 women members of the Congolese penitentiary staff at the penitentiary school of Luzumu
Fifty women, members of the Congolese penitentiary staff, completed on October 9, 2021 their training at the penitentiary school of Luzumu, in the province of Kongo Central. This is the first prison school in the DRC, built with the support of MONUSCO, through Corrections Unit.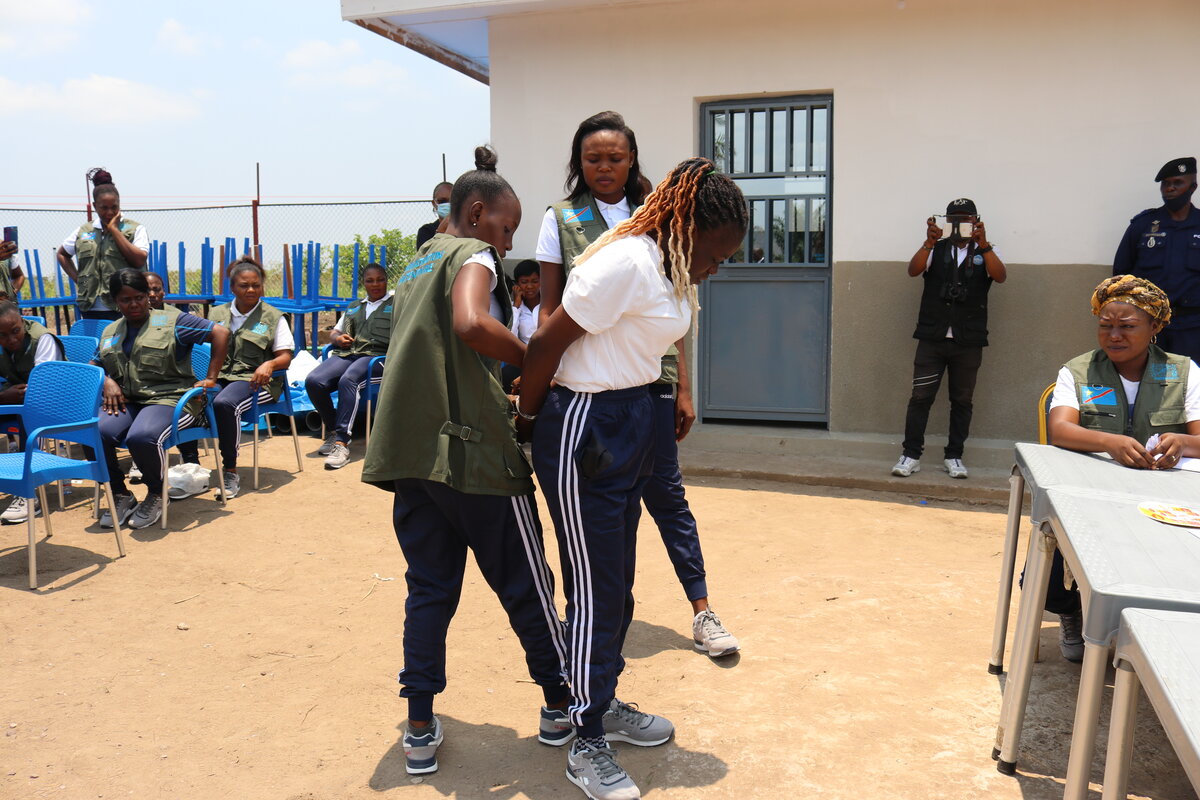 In this photo, three trainees demonstrate technical intervention gestures (GTPI).
For more information :