Kinshasa: while patrol, MONUSCO police explain their mandate to the civilian population
A dozen elements of the Senegalese Formed Police Unit (SENFPU2) were on a joint daytime patrol on Sunday, September 8, 2019, across the municipalities of Gombe, Kintambo, Kasa-Vubu, Lingwala, Limete, Barumbu along some of the city's arteries and avenues.
On this occasion, the MONUSCO police interacted with young people from the "Monitoring Committee for the actions of the Head of State" gathering in "Place des evolués", in Gombe, as part of an awareness campaign on the cleanliness of the city, dubbed 'Kinshasa Clean City'.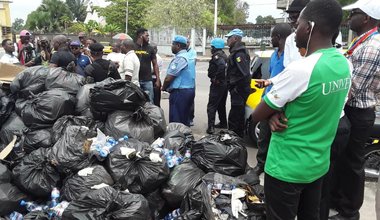 UNPOL took advantage of this platform to raise awareness about MONUSCO's mandate, which is sometimes poorly perceived by the population.
In a frank and courteous dialogue, the patrol leader also explained to his audience of the day the role of the United Nations Police in the peacekeeping mission in the Democratic Republic of Congo, namely:
• Protection of civilians;
• Strengthening the operational and professional capacities of the Congolese National Police;
• Support to the restoration of State authority in the East of the country.
UNPOL then briefly dwelt on the assistance and support given to the Congolese National Police (PNC) by the MONUSCO Police, citing, among other things, daily visits to the PNC units, patrols in the neighborhoods and especially the concrete achievements made by MONUSCO in the locality through projects.
Every day, about 50 UNPOL members from the Kinshasa UNPOL sector crisscross the city to reinforce and restore security by their presence in the communities through security patrols, co-locations, Task Force missions, and joint missions with civilian and military magistrates.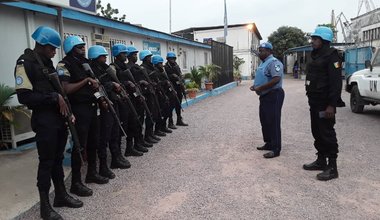 They bring their expertise to PNC services through support and advice; monitor compliance with international human rights standards and encourage and restore public order and the rule of law.
United Nations police protect civilians; investigate incidents of sexual and gender-based violence, as well as combat transnational organized crime and extremism alongside their Congolese counterparts.
UNPOL also assist the PNC in considering gender perspectives, which increases the operational efficiency of Congolese police in their field of intervention.
According to the head of Kinshasa UNPOL sector, PNC services benefit greatly, and are more sensitive to the population when women's and men's experiences and views are integrated into the design thereof.