MONUSCO's Martin Kobler marks 100 days in office, discusses achievements with Internet users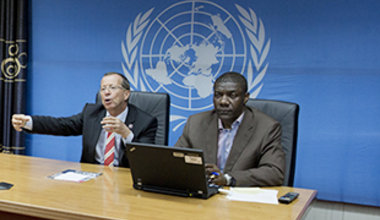 Goma, 21 November 2013 – In a special interactive live social media broadcast on 21 November 2013 marking his first 100 days in office as head of the UN Stabilization Mission in the D.R. Congo (MONUSCO), Martin Kobler discussed with Internet users around the world what the UN Mission has achieved under his leadership so far.
Interacting with users of MONUSCO's social media outlets (Radio Okapi website, Face Book, Twitter) from the eastern D.R. Congo's town of Goma, the UN Secretary-General's Special Representative provided illuminating responses to the many questions and concerns raised during this discussion, which was organized by the Mission's Public Information Division.
The questions were mainly about what MONUSCO was going to do next after the recent military defeat of the M23 rebel group, what the Mission is going to do in terms of supporting the population, particularly in the country's east, and what transpired in the Kampala talks between the DRC Government and the M23.
In a general initial comment, Mr. Kobler said he was happy to note smiles were returning to faces as a result of the suffering and pain inflicted to the population due to the war caused by negative armed groups, especially the M23.
On the M23's defeat, Mr. Kobler said this was just one phase of the battle, and that the MONUSCO Intervention Brigade will continue its efforts to track down other negative forces. "Our fight together with FARDC [Armed Forces of the DRC] is to track other negative groups in North Kivu and elsewhere," he said.
Explaining the rationale of the UN Organization's use of force as a last resort, the Special Representative said it should be clear to all that force will be used, but "my first message is for armed groups to disarm voluntarily". "Armed groups should know it is important to disarm or we will use force," he added.
On how long MONUSCO will stay in DRC, Mr. Kobler said it is important that MONUSCO continue its work and achieve its stabilization objective before it leaves the country. MONUSCO, he explained, is accountable to the Security Council for the fulfillment of its mandate, and fulfillment means there is peace in the east, the violence has been stopped, and economic recovery and a spirit of good neighborliness achieved within the country and the region.
Regarding the Kampala talks, he said regardless of whether the document to be adopted is called a declaration or otherwise, the international community is bent on seeing that something positive is done to conclude the dialogue.
On a final note, Martin Kobler said he will continue to discuss with youths, women and all because attaining peace is not a one day affair; rather it is a process that has to be conceptualized and internalized by everyone.
Martha Biongo/MONUSCO