MONUSCO and Civil Society meet with the press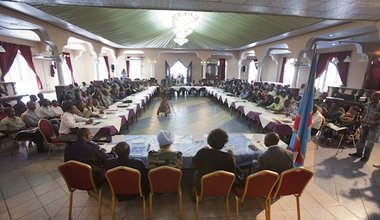 Goma, 29 May 2012 – Over 200 people representing the United Nations Organization Stabilization Mission in the Democratic Republic of Congo (MONUSCO), local civil society groups, the Congolese National Police, political and economic actors, as well as an important number of journalists met in Goma on 24 May to share information regarding the situation of armed conflicts currently prevailing in Nord-Kivu province.
In his opening remarks, the head of the local civil society network, Thomas d'Acquin Muiti, told participants that "this meeting aims at strengthening community cohesion and providing an opportunity to exchange views on issues of peace and security in a framework free from any manipulation." Warning against harmful rumours that spread misinformation and sow divisions within the local community, the head of the civil society network underscored the need to re-establish mutual confidence and to share good information regarding economic, political and security issues.
This was followed by remarks from the MONUSCO head of office in Sud-Kivu, Ms. Hirouete Guèbre Sélassié, who, in a similar vein, insisted that rumour and suspicion have a demobilizing effect on the population. Hence she urged the participants to have "a discussion based on facts, to resist conspiracy theories, and engage in frank and objective exchange of views on all questions affecting this province."
Ms. Guèbre Sélassié also reminded the participants of MONUSCO's role. "There is a misunderstanding of the responsibilities of MONUSCO and the role of the Congolese Government. So it should be reminded that protection and security is actually the responsibility of the Congolese Government, but the Government needed support in order for risks of violence to be reduced."
The participants, for their part, appreciated the importance of having this type of information sessions as they offer an opportunity to better understand the role of MONUSCO and that of the Government.
Clara Padovan/MONUSCO