MONUSCO Backs National Campaign Against Torture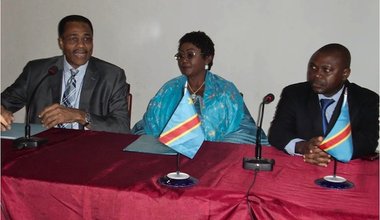 Kisangani, 17th July 2012 - A national campaign for the promotion of the Convention against torture and Law criminalizing torture in the Democratic Republic of Congo (DRC) was officially launched in Kisangani on Friday 13 July. This effort enjoyed the support of the United Nations Organization Stabilization Mission in the Democratic Republic of Congo (MONUSCO) and the United Nations Joint Human Rights Office (UNJHRO).
The campaign, which stated objective is to cover all the DRC provinces aimed at securing the effective implementation of the anti-torture legal instruments through sensitizing provincial and prison officials, military and police officers, judiciary personnel as well as members of non-government and civil society organisations and media professionals.It was officially launched by the DRC Minister for Justice and Human Rights, Mrs. Selemani Sakina Binti who was on an official assessment mission of the overall human rights situation and prisons conditions in the Orientale Province.
Referring to the Convention against torture adopted by the United Nations General Assembly on 10 December 1984, and ratified by the Democratic Republic of Congo, Mrs. Bintia highlighted ''DRC must honor its commitments by banning torture and other inhuman and degrading treatments.........and victims of such acts should have the right to refer the case to courts and tribunals''.
For his part, the chief of MONUSCO office in Kisangani, Helder De Barros said in his opening remarks that MONUSCO would support Government officials to carry through the national campaign. For ''A prosperous and democratic DRC will not be achieved without proper knowledge of the country's legislation and upgraded capacity for public servants to respect and enforce each citizen's rights and duties."
In 2010, DRC adopted an Act criminalizing as a severally punishable offense by the law. UNJHRO notes that some efforts were made to protect individuals against acts of torture and ill- treatments but this is not enough.
In her 2011 annual report, the United Nations High Commissioner for Human Rights voiced her concern over deplorable detention conditions in the Democratic Republic of Congo and prevailing insecurity in detention sites. She also denounced cases of breaches of the physical integrity of detainees, including rapes.
MONUSCO/Codjo Houegniglo