MONUSCO chief on a two-day visit to Dungu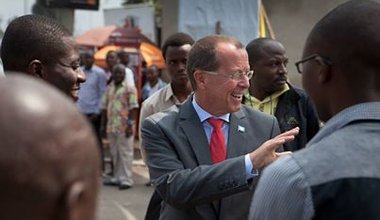 Dungu, 18 December 2013 – The chief of the United Nations Stabilization Mission in the Democratic Republic of Congo (MONUSCO), Martin Kobler, arrived in Dungu, a city located in the far-north of the Eastern province, in the early afternoon of 18 December 2013. Shortly after arrival, the Special Representative of the United Nations Secretary-General in the DRC attended a military drill organized and executed by the Guatemalan Special Forces of MONUSCO.
Martin Kobler, then chaired a military parade ceremony organized by the Indonesian peacekeepers based in the area. The Special Representative expressed satisfaction as well as his deep appreciation to the contingent for their work.
Later in the afternoon, the Special Representative visited the 45 km road from Dungu to Ngilima, which was fully rehabilitated by the engineering unit of the Indonesian contingent. Mr. Kobler further visited Dungu Mayi elementary school and exchanged with the pupils as well as their teachers. The central prison was the last leg on his visit in this area of the DRC where he was stepping for the first time.
Jean-Michel Lybhula M'Opolo/MONUSCO