MONUSCO facilitates access to medical care for inmates at Uvira's Mulunge prison
The MONUSCO Corrections Unit and the United Nations Joint Human Rights Office (UNJHRO) have enabled 350 prisoners and detainees at Mulunge Central Prison in Uvira to exercise "their right to access health care ".  It is thanks to the advocacy conducted by MONUSCO that "Aide Médicale Congo (AMC), a Congolese national NGO, has provided medical consultations and treatment for these inmates.
This activity took place from 02 to 04 September 2019 in the inner courtyard of this prison.
Among the 347 inmates who were examined and treated during these three days, 285, including 18 women and some infants, had been suffering from malaria associated with other pathologies such as parasitic infections.
"They have skin diseases. They sleep on the floor, and are without blankets, clothing, cooking utensils and mosquito nets », said the Uvira prison director.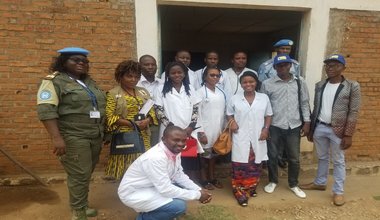 This is the third intervention by Aide Médicale Congo to assist the inmates at this prison with the support of Medical Help Suisse.
Its coordinator, Dr. Luc LWEYA MAKONO explained, "last time we found some cases of malaria. That is why we have come back today with our medical team to conduct medical monitoring and consultations of the prisoners. There are nearly a thousand of them, and malaria is raging here. That's why we are here to empathize and respond to their needs. "
Following these consultations, Aide Médicale Congo donated a large stock of medicines to help the prison officials to respond to future malaria cases.
As part of its mandate to protect civilians, the UN Mission has a duty to assist detainees.
"It is in this context that, having noticed an increase in cases of malaria in this prison, we turned to the partner Aide Médicale Congo requesting their help. As a result,  we are witnessing today mass testing and treatment of malaria cases, " said Correction Unit head Mireille Kenmogne Kouam.
According to her, these prisoners are in a situation of vulnerability which leaves them  unable to afford their medications. "Therefore, they are left to their sad fate, abandoned to themselves. That is why we, as partners called upon to protect them, are obliged to seek other partners to work with so we can offer at least treatment of malaria, especially as we are in a malaria endemic zone, an equatorial zone which is continually infected by the disease", she said. 
As overcrowding in the prison is a handicap for an effective use of insecticide-treated mosquito nets, MONUSCO opts for 'spontaneous screening every three months'.  "Advocacy efforts are being undertaken in that direction," says the UN officer.