MONUSCO Force Intervention Brigade ready to respond to armed groups in North Kivu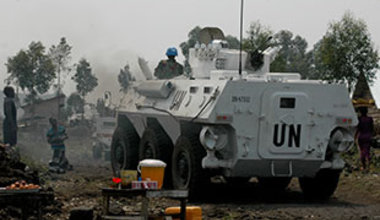 Goma, 14 August 2013 - Following requests from several local and foreign media, Tanzanian and South African Special Forces of the Force Intervention Brigade (FIB) of MONUSCO displayed a show of force during a training exercise to demonstrate their ability to cope with any assaults coming from rebel groups. The journalists were also able to witness the way in which the FIB conducts daily patrols in the area between Sake and Moja in North Kivu province.
The control over the area stretching between the towns of Sake, Mutaho and Moja, one of the key entry points into the city of Goma, was drastically reinforced by the Congolese National Armed Forces (FARDC) following threats by the M23 rebel movement to retake Goma. The area is densely populated, with roads paved with blocks of lava. The FIB has already acquainted itself with this kind of terrain, and is now fully operational, and ready to face any threats from any rebel groups. "We are training intensively in order to fulfill our task appropriately,'' Captain Mackona, from the Tanzanian Special Forces, said to the press.