MONUSCO launches brainstorming session on climate action in Tanganyika province
Kalemie, le 25 September 2019 - MONUSCO, through Public Information section organized on 25 September 2019, a debate around the theme "Climate change, environmental consequences and populations' living conditions in Tanganyika province". The activity is part of the commemoration of the International Day of Peace, celebrated on 21 September under the theme: "Climate Action, Action for Peace".
Nearly 80 people including 20 women took part in the meeting chaired by the provincial Minister of Planning, Budget as well as Small and Medium Enterprises, representing his counterpart who is responsible for the Environment.
The audience included members of the Provincial Assembly, heads of provincial technical services for the departments of agriculture, fisheries, livestock, environment and surveying and land registry, members of the Congolese National Police, traditional chiefs, geography students, members of various groups, fishermen, women's groups in charge of public sanitation, many young people, as well as MONUSCO staff.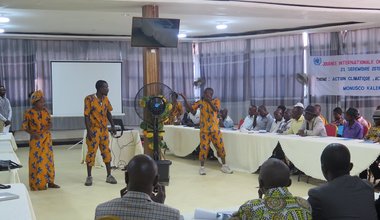 At the opening of the meeting, MONUSCO-Kalemie Head of Office read out UN Secretary-General's message on the occasion of the International Day of Peace, before the two presentations given by experts: The first presentation sub-themed "Tanganyika in the face of climate change, what type of approach for peace and development"; The second presentation was entitled "Human Actions for Climate and Environmental Protection in Tanganyika"
All the interventions laid a special focus on the need for greater involvement by everyone in the fight against climate change, which is effective in Tanganyika province.
Participants stressed the need for behavioral change that would facilitate protection of the environment, and safeguarding of the natural resources in the province, referring to Lake Tanganyika and forests. Dissemination and application of the legal instruments and laws in the environmental area are also part of the recommendations. As a short-term action, participants demanded more awareness-raising, targeting youth in particular.
The Rapporteur for the office said the recommendations issued by the meeting will be recorded in a document and forwarded to the Provincial Assembly. A theatrical performance sensitized the public on the preservation of the Lake Tanganyika polluted by various wastes.