South-Kivu: 83 FDLR lay down weapons and surrender with dependents on a voluntary basis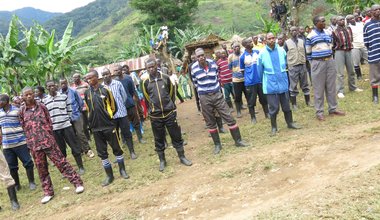 Bukavu, 10 June 2014 - 83 FDLR members arrived at Kigoggo on 6 June 2014 to surrender and lay down weapons on a voluntary basis after several day-walks. They showed up at MONUSCO's office along with 225 dependents including 166 children and 59 women. They laid down 83 weapons including 8 heavy ones in an official ceremony held on 09 June to contribute, from then on, as they said, to the efforts for restoring peace in DRC and the sub-region.
After an aborted meeting on 30 May 2014, said the acting leader of the Democratic Forces for the Liberation of Rwanda (FDLR), Byringiro Victor, in his speech read by FDLR Executive Secretary Wilson Irategeka, this step marks the beginning of a new era when " their movement is giving up armed fight to start political struggle". In the presence of the United Nations Stabilization Mission in the Democratic Republic of Congo (MONUSCO), the provincial Governor of the South Kivu, a delegation of the Southern African Development Community (SADC), the representatives of the Expanded Joint Verification Mechanism and the commander of the 10th military region of the Armed Forces of the Democratic Republic of Congo (FARDC). He further called on "the international community to fully play its part in securing a free and secured political space in Rwanda and organizing franc, sincere and highly inclusive inter-Rwandan talks for the purposes of a peaceful and final settlement of the Rwandan problems; this will help promote a rapid return of all Rwandan refugees home." He also called on the International Community to "lift the embargo on some FDLR leaders."
Within this framework, the provincial Governor of South-Kivu, Marcelin Cishambo expressed the hope to see the process brought to fruition, all FDLR members return home and Congolese people to live in peace. To those who are reluctant to return to Rwanda, the Governor said the Democratic Republic of Congo (DRC) is ready to transfer them and install them in the west of the DRC.
SADC Representative, Ambassador Wilbard Hellao, as far as concerned, hailed the process and FDLR's commitment, reiterating SADC's availability to support all initiatives leading to sustainable peace in DRC. MONUSCO welcomed FDLR members in the district of Lwindi situated in Kigogo, about 135 km away from south-west of Bukavu for logistic reasons and reasons of access.
In this regard, MONUSCO erected more than forty tents and provides daily assistance including first aid to the 308 FDLR before transferring them to new MONUSCO-built shift camps in Walungu on 10 June. DRC Government jointly with SADC will provide them with assistance.
Biliaminou