Western Kasai: UN Raises Awareness on International Covenant on Economic, Social and Cultural Rights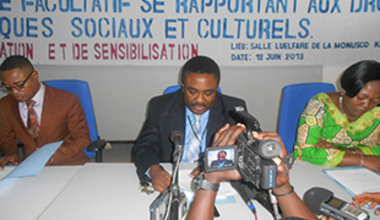 Kananga, 12 June 2013 – To raise awareness on the entry into force of, and ratification process for, the Optional Protocol to the International Covenant on Economic, Social and Cultural Rights, the United Nations Joint Human Rights Office in the Democratic Republic of Congo held, on 12 June 2013, an information session in the town of Kananga, Western Kasai province, targeting local political and civil society actors.
The Governor ad interim of the province, Delere Kawino, led the opening ceremony, which was attended by several other provincial authorities and the Provincial Coordinator of the United Nations Office for Western Kasai, Alain Sitchet. Mr. Sitchet said in his remarks that one of the purposes for this awareness raising campaign, was to encourage and secure the ratification of this Covenant and its Provisional Protocol so as to promote the economic and socio-cultural rights of the people in this part of the Democratic Republic of Congo. The coming into effect of the Provisional Protocol on Economic and Socio-Cultural Rights, he said, provides State institutions with an opportunity to integrate all the innovations contained in the Protocol into the national legal arsenal to the benefit of the people.
Following the discussions, participants from civil society organizations expressed their appreciation to the organizers, and pledged their readiness to help raise awareness and knowledge of these rights among the population throughout the province.
Altogether 50 people participated in this session. Among them were delegates from the economic, political and administrative, social and cultural, and judicial commissions of the provincial Assembly, delegates from the provincial ministries of Human Rights and Education, as well as magistrates and representatives from Kananga-based organizations for the defense and promotion of human rights.
Lansana Dabo/MONUSCO