In Beni, UNMAS Supports Identification of Police and Army Weapons To Facilitate Control Thereof
The operation to mark police and army weapons ended on Thursday, March 30, in the town of Beni. Supported and financed by MONUSCO's Mine Action Service (UNMAS), the operation  aimed to identify weapons held by police and military personnel in order to ensure better monitoring thereof.
Marking a weapon means giving it an identity to better control it and prevent it from ending up in unauthorized hands.
"Basically, all weapons have serial numbers, manufacturer's numbers," explains Grégoire de Nantes, head of UNMAS/MONUSCO's small arms and light weapons project. "The principle of marking means registering these weapons at the national level and making it possible to better monitor them. It is very important that these weapons be marked and registered".
For him, marking weapons is all the more important in an unstable area like Beni where insecurity continues to claim civilian lives.
"It is necessary to mark the weapons most exposed to movement. And in insecure areas, those weapons are the most likely to disappear, to be stolen either during a massive transfer of weapons from one region to another or at the level of the individual fighter who is more exposed to theft," says Gregoire de Nantes.
He said that similar operations had already taken place in Ituri and Tanganyika before 2021.
"After a marking operation in Tanganyika," he recalled, "there were weapons that had been marked less than three months before and that were seized from illegal stockpiles in the Tanganyika region. This made it possible to trace the origin of these weapons right away. It proved the marking was effective."
In its mandate, UNMAS supports the work of the National Commission for the Control of Small Arms and Light Weapons (CNC-ALPC) set up by the government to combat the illicit circulation and proliferation of weapons in the DRC.
More than two thousand weapons marked
Hervé Kalonda, mission  chief of the CNC-ALPC, who came from Kinshasa to participate in this operation, reveals that a total of 2,600 weapons were marked during the two weeks in which the marking was carried out. In his words, "there is still a huge need".
"There are several weapons that have remained unmarked. There is an urgent need for marking in this city. It is important for the security of the population," he said.
Hervé Kalonda says he hopes that this vistiing team will "come back to continue the operation".
This is also the wish of the mayor of Beni, who was present at the closing ceremony of the operation.
Senior Chief Commissioner Narcisse Muteba Kashale pleads for the weapons marking work to continue in his town, still plagued by insecurity.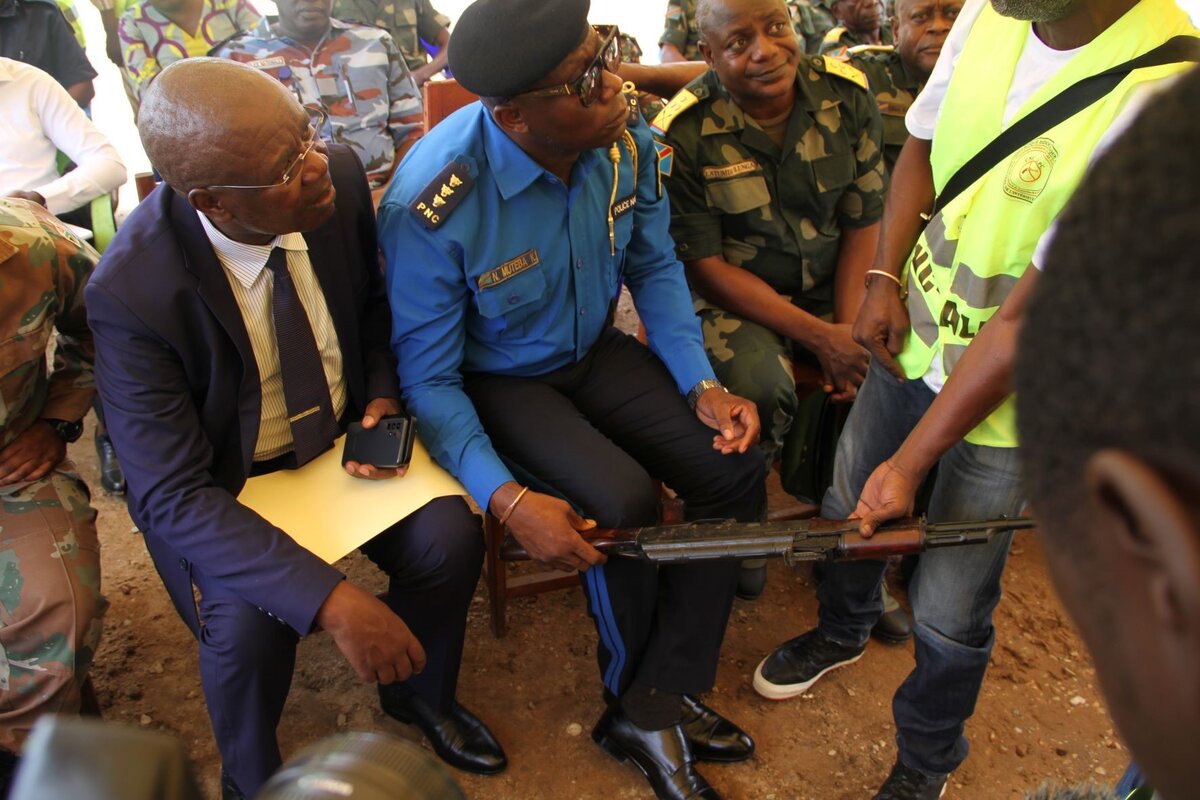 "We are in a zone where insecurity is rife. We have weapons circulating here and there in this city. This ceremony was important for us to ensure that there weapons are controlled and regulated in this city. [We have a lot to do. That's why I asked this team from Kinshasa to come back because there is still a lot to do. We want them to come back to continue the operation," he said.
For his part, the head of the MONUSCO office in Beni, notes that it is the UN Security Council that is calling for the implementation of measures taken at the national level to counter the threat posed by the illicit transfer, destabilizing stockpiling and diversion of small arms and light weapons to armed groups in the country.
Josiah Obat insists that among MONUSCO's priority tasks is the protection of civilians. That is why the Mission is supporting the National Commission for the Control of Small Arms and Light Weapons in this weapons marking operation.
These marking operations will continue. From April 14 to 28, another one will be organized in South Kivu. As Grégoire de Nantes says, "the eastern provinces are the priority targets".
For him, "the control of small arms and light weapons, as well as the fight against the misuse of these weapons, constitutes an important step in the reduction of armed violence".