General Pascal Champion, of France, Arrives in Kinshasa to Take Over as New Head of MONUSCO Police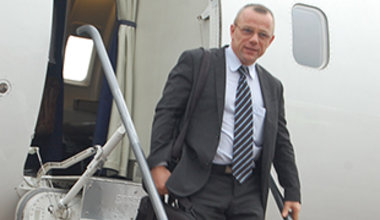 Kinshasa, 15 January 2014 – It is 17:15 this Wednesday in Kinshasa, when the new chief of the Police component of the United Nations Organization Stabilization Mission in the Democratic Republic of Congo (MONUSCO), Pascal Champion, a general of the French Gendarmerie, lands on Congolese soil. He is welcomed at the foot of the aircraft by his deputy, Colonel Tabasky Diouf, who for this occasion was accompanied by the Chief of Staff, Guestar Esther.
The day after his arrival, General Champion met with the leadership team of the Police component before heading to MONUSCO headquarters to undertake a series of meetings with the different MONUSCO officials.
General Champion takes command of MONUSCO Police after acquiring a long experience as commander of security structures both in his country of origin and abroad. In the current context of MONUSCO's relocation from the West to the East, the new Commissioner is responsible for guiding the work of the Police in the fulfillment of the Mission's mandate as laid down in Resolution 2098 of the United Nations Security Council.
The Special Deputy Representative of the United Nations Secretary-General for Operations in Eastern DR Congo, Abdallah Wafy, urged his collaborators to stand side by side with the new Police chief for the achievement of the objectives of the Mission's Police component.
Alima Tietin Coulibaly/MONUSCO