Pacification of Ituri : Leila Zerrougui interacts with national members of parliament from this province
The Special Representative of the United Nations Secretary General in the Democratic Republic of Congo, Leila Zerrougui met with a delegation of eight national members of parliament from Ituri in Kinshasa on May 18.
The meeting which was also attended by the Deputy Special Representative of the Secretary General in charge of Protection and Operations, David Gressly and the Deputy Special Representative of the Secretary General, Humanitarian Coordinator, David Mclachlan-Karr focused on the prevailing security and humanitarian situation in the eastern DRC province where the insecurity caused by armed groups has displaced more than 1.2 million persons in the Territories of Djugu, Mahagi and part of the Irumu Territory.
The MP's delegation was led by Mrs. Angèle Tabu Makusi, an elected national MP from the Territory of Djugu. During the meeting, the emphasis was laid on the role of MONUSCO in the protection of civilians as well as on the support provided by the Mission to national authorities to help end the current wave of insecurity in the province. Support from the humanitarian community to help address the humanitarian challenges there was also at the center of their discussions.
Ms. Zerrougui, echoing her two deputies, stressed the need for a genuine partnership between MONUSCO and the Government to facilitate collaboration with the local, provincial and national stakeholders in order to find lasting solutions to the root causes of the recurrent conflicts in Ituri.
She underscored her continued commitment to the national and provincial authorities within the framework of the Mission's good office mandate, drawing their attention to the seriousness of the deterioration of the security and humanitarian situation and to the need for adequate measures and strategies to pacify and stabilize the province. These measures include, inter alia, support to the FARDC in the field and participation of MONUSCO in enhancing community dialogue and peace processes initiatives.
The deputies supported the position of MONUSCO chief on the need for all the parties to work for lasting resolution of the conflicts in the province by concentrating on addressing the root causes.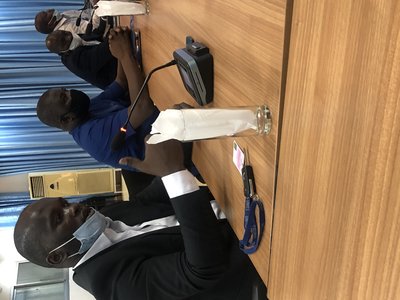 They stressed that currently their priority was to end, as a matter of urgency, what they described as "the current hemorrhage" and the disastrous humanitarian situation faced by the local populations trapped in the conflict zones in Ituri.
For their part, this is a first step towards finding lasting medium and long-term solutions to the humanitarian and security challenges in Ituri province.
It is in this context that the United Nations Deputy Humanitarian Coordinator in the DRC arrived on Monday May 18 in Bunia to assess the humanitarian situation in the Province. Diego Zorilla will be staying in Ituri from 18 to 22 May.