Des mineurs détenus à la prison de Makala vont apprendre l'informatique
On the occasion of the World Children's Day celebrated on November 20 of each year, MONUSCO Prison Administration Support Unit issued end-of-training certificates to future computer trainers of the inmates detained at Makala central prison.
Those children will start learning how to use a computer despite while in detention. This highlights the concern to guarantee one of the fundamental rights of the children, which is the right to education.
As part of the implementation of MONUSCO's mandate, the Prison Administration Support Unit provided the under-aged detainees with six computers and office equipment during the last fiscal year.
The unit undertook to train six (06) Prison officials, in collaboration with the national school for Justice personnel, and provide training to the under-aged inmates to help them acquire computer skill with a view to their social reintegration.
In his speech delivered during the commemoration of the World Day for the Children's Rights, the director of the special district for the placement of children in conflict with the law in the city of Kinshasa, Jean Djemba Okitowele, insisted on the protection of the children's rights whatever their plight.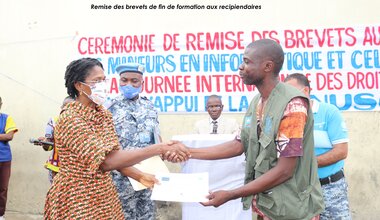 "Whatever their status, children remain children and their rights must be protected," he underscored.
The head of the Prison Administration Support Unit recalled the importance of educating children: "Providing a child with good education amounts to preparing them for a bright future".
This year, the World Day for Children's Rights was marked under the theme: "A better future for every child".