Last batch of Malawi troops now in Goma for the UN Force Intervention Brigade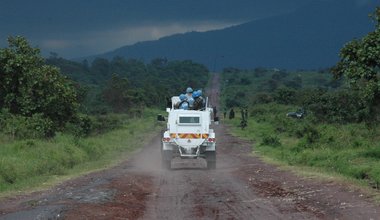 Goma, 21 October 2013 - The last batch of the Malawi troops committed to the MONUSCO Force Intervention Brigade arrived in Goma, North Kivu province, on 7 October 2013. They will be part of the 3000- strong force to which Tanzania and South Africa are the other two troop contributing countries.
Since the arrival of its first troops in June 2013, the Intervention Brigade has already gone into action resulting in the withdrawal of M23, 30 kms from its initial positions in Kanyaruchinya, on 31 August 2013.
The Intervention Brigade is now at its full strength with the arrival of the Malawi infantry battalion. Tanzania, South Africa and Malawi have been picked for the UN Stabilization Mission in DR Congo (MONUSCO) because of the wide experience they gained in other UN Peacekeeping missions. For instance, 95 percent of the Malawi troops have been already in peacekeeping missions in Kosovo, Liberia, Rwanda, Sudan, and they are well prepared to face any operational challenges.
"We are here to support the Congolese government as Congo is part of the UN. The people of Congo should see us as their servant. Their expectations are high and we know that there is a lot to be done but we are here to have the job done, " explained Lieutenant Benson, the spokesperson for the Malawi Battalion.
The creation of a Brigade with an aggressive mandate was stressed by the international community last year after the M23 occupied Goma momentarily in November 2012. The Intervention Brigade was recommended by the UN Security Council to neutralize the armed groups by conducting offensive unilateral or joint operation with the Congolese Armed Forces ( FARDC)
MONUSCO/Clara Padovan