Members of Indian Contingent receive UN Peacekeping Medal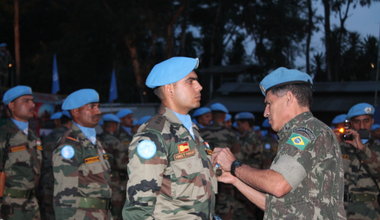 Himbi, 15th August 2014 - A Medal Parade in commemoration of 68th Independence Day of Republic of India was organized at the Indian Battalion base at Himbi near Goma on 15th August 2014
In a two hour long program, the parade was led by Captain Hitesh of INDBATT I and reviewed by MONUSCO Force Commander Lieutenant General Carlos Alberto dos Santos Cruz.
In his massage during the occasion North Kivu Commander Brigadier General AK Samantara, emphasized the legacy of supreme service and sacrifice by the Indian Peacekeepers under the UN flag expressing the determination to continue with the tradition in meeting all forms of challenges in the mission area.
"For any military peacekeepers, it is the proud moment to be honored with the UN Peacekeeping Medal for his service" General Samantara added.
It is worth noting that the Indian Contingent deployed with the North Kivu Brigade assumed the responsibility of Peace Keeping in North Kivu Province in the Democratic Republic of Congo on the 7th of January 2005. Since then, it has rendered selfless service under the UN flag, facing all kinds of challenges.
The program culminated with cultural extravaganza which included "CHAU" and "KHUKARI" dances by the Indian contingents, followed by the Military Band display of magnificent military tunes.
Major Ashish Wandare, MPIO & Martha Biongo, PIO GOMA
(MPIO)