MONUSCO-CPAD QIP Project Training of 50 Congolese Women: How to Get a Job?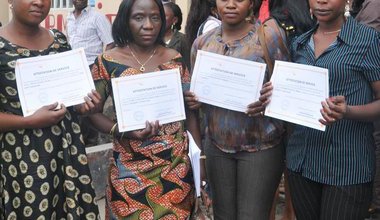 CPAD, an NGO organized a three-month training session in IT, marketing, English, and sewing for 50 women. MONUSCO financed this training through one of its Quick Impact Projects (QIP). On 16 August 2013, Sodeico, a Congolese recruiting agency and a partner of CPAD, organized a recruitment test for 22 women trained in IT, English and marketing in Kinshasa. On 13 September 2013, four women who passed the written tests were invited for oral interviews.

On 17 September 2013, the graduation ceremony gathered the trainees, trainers, CPAD and MONUSCO representatives. Private sector partners (Bank of Africa, Dstv, G.H. Investment Sprl and Sodeico) were also invited. Two manuals on: IT, marketing and English; and sewing were provided to the trainees. Check out video.
During the visit of the UN Security Council to Kinshasa, on 5 October 2013, journalists from Reuters, VOA and UN Security Council Report visited MONUSCO-CPAD QIP project. CPAD representatives, private sector partners and trainees shared their experiences with the journalists. Moreover, Sodeico proudly announced that four finalists who passed the oral interviews found jobs. One of them joined Bank of Africa (BOA) as a cashier and started on 7 October 2013. Others finalists will become sales representatives.
For further details on the project: check out the article "In DRC, UN, Private Sector Program Trains Women" by Margaret Besheer, Voice of America, 5 October 2013 and some pictures.
The Mission will post further information on job opportunities for the trainees of CPAD-MONUSCO QIP project.
Through this project, MONUSCO, CPAD, BOA, Dstv, G.H. Investment Sprl and Sodeico are contributing to the economic empowerment of women in Kinshasa.
On 15 August 2013, CPAD started a training session for another 50 Congolese women. Monthly fees are estimated at about USD 23 per trainee. CPAD will continue its partnership with the private sector to boost women opportunities on the job market.