MONUSCO renovates the maternity ward of Oicha Hospital, North Kivu province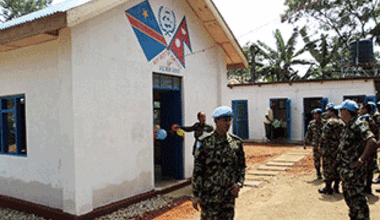 Beni, 5 July 2013 - In Beni, North Kivu province, Nepalese peacekeepers of the United Nations Stabilization Mission in the DR Congo (MONUSCO), on 3 July 2013 handed over to the local authorities a completely renovated maternity ward at the General Reference Hospital in Oicha, a locality 30 km north of the town of Beni in North Kivu province.
Most of the buildings of the General Hospital of Oicha date from 1935. Apart from a few rooms built in the last 10 years, the rest of this medical facility is very old. The new birth center is a 20-bed facility which was built by the Nepalese peacekeeping battalion at the cost of 21,000 US dollars, according to the battalion commander.
The construction took one month to complete, that is, from May to June 2013.
"The construction of this building was undertaken as part of a collaboration effort between the population and the peacekeepers. Gestures such as this can help bring a lasting peace to the DR Congo," the Nepalese commander said.
Speaking on behalf of his staff as well as the population, the head doctor of the hospital, Dr. Nzalamingi Ndungo, said the new building was a response to a real need. "This hospital," he said, "receives at least 350 women per month."
The Head of MONUSCO in Beni lauded this initiative, and called on the local population to make good use of it.
Martial Papy Mukeba/ MONUSCO