MONUSCO welcomes the surrender of a high-ranking FRPI militia leader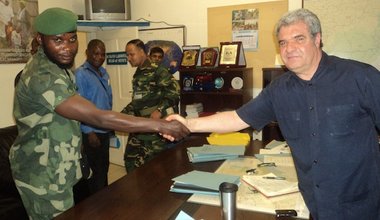 Bunia, 18 June 2012 – Mr M'Hand Ladjouzi, Ituri head of office of the United Nations Organization Stabilization Mission in the Democratic Republic of the Congo (MONUSCO) welcomed the surrender, on 16 June 2012, of Lieutenant Colonel Brice Bady Kasima also known as "Alpha bébé". He is one of the leaders of the Front de résistance patriotique de l'Ituri (FRPI).
A former Major in the 12th integrated brigade of the Forces armées de la République démocratique du Congo (FARDC), he was promoted to the rank of Colonel by General Justin Wanaloki also known as "Cobra Matata". Last week, he left the militia's headquarters in Gety, 40 km south of Bunia, and joined the FARDC headquarters.
Lieutenant General Kasima and General Cobra Matata have been members of this militia since its creation in 1999-2000, during the inter-ethnic war in Ituri. General Cobra Matata is now the leader of the FRPI.
The two men had integrated into the FARDC during the 3rd phase of the disarmament, demobilization and reinsertion National Programme in August 2007. Then in 2010, they left the FARDC and joined the FRPI.
MONUSCO head of office in Ituri used this occasion to encourage other FRPI militiamen, today estimated at around 2000 men, to follow the example of Lieutenant Colonel Kasima.
Amadou Maïga/ MONUSCO