The new head of MONUSCO FIB calls on residual armed groups to lay down their weapons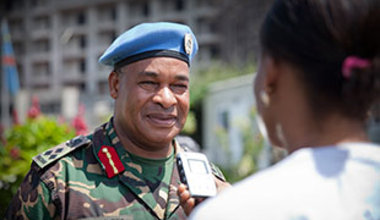 General Ramadhan Abdul Kimweri, from Tanzania, is the new commander of MONUSCO Force Intervention Brigade. He assumed office on 15 April, in replacement of his countryman, General James Mwakibolwa who returned home after one year of loyal services as head of this Brigade.
"I have come to carry on the mission started by my predecessor. The major objective of the mission remains civilians'protection; I am persuaded we will manage in collaboration with FARDC …", declared the new FIB commander this Friday in Goma, at the end of his meeting with the head of MONUSCO/North Kivu office, Mr. Ray Virgilio Torres.
General Ramadhan Abdul Kimweri reiterated Brigade's determination to track down and disarm all militiamen who continue to spread insecurity in North-Kivu.
"My main mission remains civilians'protection ... so, I am appealing to all armed groups to voluntarily disarm by surrendering to our military bases and turning over their weapons, otherwise we will have to use force to disarm them.
Highlighting that his message to the armed groups is not a new one, General Kimweri sought collaboration of the North Kivu population to achieve this goal. ''We must join forces and work hand in hand to help the population go about their business safely".