Over a hundred women and girls raped in the Kivu in November 2012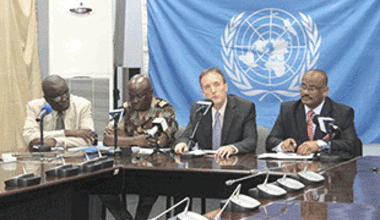 Kinshasa, 8 May 2013 – In a report published Wednesday, 8 May, the United Nations Joint Human Rights Office (UNJHRO) revealed gross violations of international humanitarian and human rights committed in November 2012 during the clashes between the National Armed Forces (FARDC) and the M23 rebels, leading to the capture of Goma by the latter. The report further suggests similar violations perpetrated during the same period as FARDC soldiers were fleeing towards South Kivu province.
"In this context, at least 102 women and 33 girls were victims of rape or other acts of sexual violence perpetrated by FARDC soldiers," the report says. "During the period of occupation of Goma and Sake by the M23, combatants of this armed group perpetrated gross human rights violations and serious violations of international humanitarian law," the document further indicates.
The report was made public Wednesday at the weekly press conference of the United Nations Organization Stabilization Mission in the Democratic Republic of Congo (MONUSCO) by the Director of UNJHRO, Scott Campbell, as the Deputy Special Representative ad interim of the United Nations Secretary-General for the Rule of Law, General Wafi, sat by his side and took questions from the media. The full text of the report is available on MONUSCO website.
During the press conference, MONUSCO spokesperson, Madnodje Mounoubai, announced the death of a Pakistani peacekeeper on Tuesday, 7 May, in the South Kivu province. The peacekeeper was in a military convoy when it was ambushed by unidentified armed elements. "We appeal to the DRC Government's officials to open investigations to identify those who perpetrated such a despicable act and bring them to justice," said Roger Meece, Special Representative of the United Nations Secretary-General in the DRC, in a press release issued on Wednesday.
Penangnini Toure/ MONUSCO

UNJHRO - HRVs Goma and Minova - May 2013.pdf