MONUSCO sensitizes female media professionals in Kasaï Occidental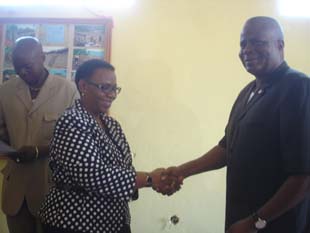 Kananga, 23 March 2013 – Public awareness campaign for 40 media professionals including 30 women in Kananga, Kasai Occidental province, ended on Friday 22 March 2013. The theme of the workshop was: "Gender, women's participation to elections, peace consolidation and development in Kasaï Occidental"
The forum was initiated by the public information section of the United Nations Organization Stabilization Mission in the Democratic Republic of Congo (MONUSCO) in partnership with the provincial section of "Union congolaise des Femmes des Médias (UCOFEM), provincial section.
The six modules given included the role of women and media in the electoral process, and women's participation to the management of the local businesses.
The opening and closing ceremonies were chaired by Dr. Antoinette Kapinga, mayor of the city of Kananga, attended by the provincial Coordinator ad interim of the United Nations in Kasaï Occidental, Abdou Diouf.
Patience Ngalula, one of the participants voiced her satisfaction and hoped more sessions will be organized in future. Participants also requested MONUSCO to provide capacity-building and adequate logistic support for their activities.
Lansana Dabo/ MONUSCO